How to Adjust after Life-Changing Events
Aug 23, 2023
---
🎧 👉 Prefer audio? You can also listen to me share about this in podcast episode #071 here.
I recently hosted my monthly call with my Busy to Balanced™ program members, and I wanted to share a snippet of what came up during that call. I was responding to a member's question about finding balance after undergoing a life-changing event. Going into the call, I had some initial thoughts about what I planned to discuss, including different modules and elements within my program that could be referenced for support after such a shakeup. However, something unexpected happened during the call – a metaphor emerged as I was addressing the group.
Side note: A quick reminder that while you're absorbing and learning from this blog and podcast, there's potential for greater transformation. Whether it's jotting down notes, performing exercises, or considering if a program like mine is suitable for you – or even seeking coaching or support – these actions can help you go deeper to integrate and embody the learning, moving beyond mere insights and "aha" moments towards genuine transformation.
Now, onto the metaphor I wanted to share. When a significant life-altering event occurs, it could be considered similar to transplanting a plant from one location to another. When transplanting, the plant often experiences a bit of shock and requires extra care and attention. Similarly, when we experience major changes in our lives – whether they involve a physical move, the loss of a loved one, or internal shifts – we can feel as though we've been transplanted into a new environment. So think about a plant that's been moved – it needs extra water, time to acclimate to new surroundings, and a new path to sunlight. It might even need to adjust its growth direction.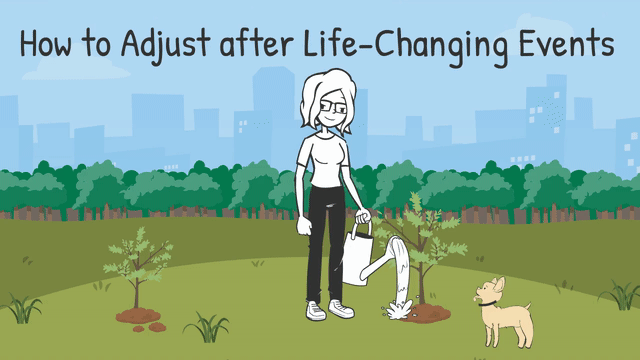 During such big life changes, consider yourself like a transplanted plant. Extend the care and nurturing needed to find your way and settle your system. Seek out the light in your new circumstances. Let your roots find their way to water in the new soil, providing you with the extra nourishment you require. Through this process, you can adapt to your new environment, regardless of the nature of the change you've experienced.
Earlier this year, I unintentionally shocked three lovely Monstera plants while repotting them. I was really concerned as they quickly showed signs of shock and struggle. However, they ultimately did more than recover – they thrived. So much so that a friend who originally gave me those plants noticed their progress and agreed it was time to move them again into separate pots. (This time, I am getting his help so that I lessen the shock!)
During times of significant changes, returning to basics and focusing on your current core values (that may have also changed through the experience) while offering yourself extra nurturing is likely what your system needs to settle into the new "environment." I went deeper into this idea during our Busy to Balanced call, exploring specific core values, and how nurturing these values can serve as a foundation for making decisions. Go here if you'd like to learn more about Busy to Balanced and experience a taste of my coaching. There's even a limited-time special offer at the end of the video in case you'd like to join us.
---
"Wherever life plants you, bloom with grace."
– French Proverb
---
🎧 👉 Prefer audio? You can also listen to me share about this in podcast episode #071 here.
---
FREE, ON-DEMAND VIDEO TRAINING:
You Deserve to go from
Busy to Balanced™
How to Live Life on Your Own Terms & Timeline
(Ditch Life's Guilt & Anxiety —
Finally Find More Peace of Mind)
Create the life you REALLY want, even if you're worried about what others may think of you.
In this video, I spill the secrets of how you can go from busy to balanced, all while rewarding yourself with peace of mind, less anxiety, and more YOU time.
Registering also subscribes you to my email list. Unsubscribe at any time. You also agree to our Terms & Privacy Policy (links below).